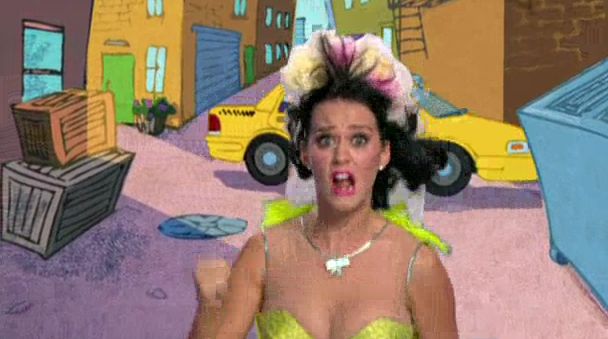 The cast and I briefly discussed this story about Katy Perry last episode. In brief, I found it offensive that Perry, while performing at her alma mater, in an act of revenge dedicated her song "Ur So Gay" to a boy who snubbed her romantic advances years ago. Perhaps I am overly sensitive, but English comedian Simon Amstell commented best on this subject on the show Never Mind the Buzzcocks.
Well, this past week Perry's berries caused a mild controversy when the producers of Sesame Street yanked her episode off the air due to her bodacious cleavage. I have seen the clip and yes, she is rocking some major cleavage. However, I interpreted her costume to be nothing more than a Faerie Princess costume. Was it low cut? Yes. Should it have been that low cut? Probably not, but she is a pop star…and I don't think a four or five year old would notice or care.
Let's get real. The only ones offended (in my opinion) were the parents. Perhaps with reason, that sort of cleavage looks better on Miss Piggy. Today on The View Elisabeth Hasselbeck used the "slippery slope" argument…stating "what will come, next"?
Personally, I think this is much ado about nothing. It annoys me that some parents are citing that they are "protecting" their children, as if cleavage was dangerous… In the end, Sesame Street and Perry got some press, and late night talk show hosts got some material. What do you think? Did the producers make the right call?
Loading ...