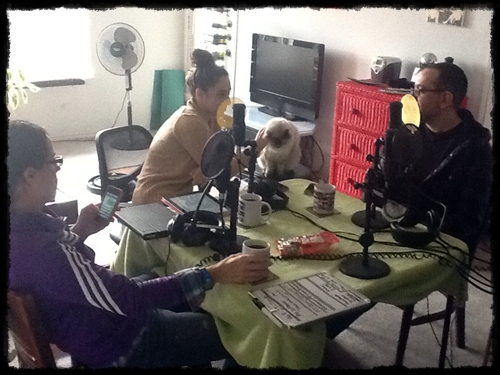 The ladies of Secretly Timid interviewed mixed media and installation artist Gabriel Dawe in the cat studio over coffee and gummy cola bottles. The trio discussed his work, what it means for a work to be considered an installation, and the artist residency Centraltrak. Dawe later shared his extensive exhibition schedule. If you are able to see one of his shows firsthand you will not be disappointed. Speaking from experience (and this is Jon typing) his installations created feelings of awe and joy. But like most things beautiful-you can look but please don't touch. Check out a small sample of his work below. For a more extensive gallery and for more information, please check out his official website.
Full Bio : (via gabrieldaw.com)
Gabriel Dawe was born in Mexico City where he grew up surrounded by the intensity and color of Mexican culture. After working as a graphic designer, he moved to Montreal, Canada in 2000 following a desire to explore foreign land. In search for creative freedom he started experimenting and creating artwork, which eventually led him to explore textiles and embroidery—activities traditionally associated with women and which were forbidden for a boy growing up in Mexico. Because of this, his work is subversive of notions of masculinity and machismo that are so ingrained in his culture. By working with thread and textiles, Dawe's work has evolved into creating large-scale installations with thread, creating environments that deal with notions of social constructions and their relation to evolutionary theory and the self-organizing force of nature.
After seven years of living in Canada and gaining dual citizenship as a Mexican-Canadian, Gabriel moved to Texas to pursue graduate school at the University of Texas at Dallas where heworked on an MFA in Arts and Technology. His work has been exhibited in Dallas, Houston, Montreal, Toronto and Barcelona.
Upcoming Exhibition Schedule :
Until January 15 – Plexus No. 10 at The National Centre for Craft and Design in Sleaford, UK
January 20 to February 24 – "Plexus No. 12" The Juanita Harvey Art Gallery at the Midwestern State University in Wichita Falls, TX.
January 21, 2012 to July, 2013 – East Wing X at the Courtauld Institute in London, UK
April 12-15 –Â the Dallas Art Fair
April 12 to mid-June – Solo show at Lot 10 Gallery in Brussels, Belgium
April 28 to the end of 2012 – Plexus No. XX" Louisiana State University Museum, Baton Rouge, LA
June 23 to July 31 – Solo show at Conduit Gallery in Dallas, TX
Podcast: Play in new window | Download
Subscribe: RSS